2018 News Archive
From time to time Nordic4DFrame will have newsworthy items that we would like to pass along. They are listed in chronological order, with the most recent ones first and the oldest ones last.
Archive: 2017 2016 2015 2014 2013
18 April 2018
COMING SOON - Fourth 4DFrame Competition in Sweden
May 2018 will see the fourth annual 4DFrame "Enlightening Imagination" competition to be held in Sweden.
Every year the student contestants are given a challenge to create a design that will fulfill a task. Not only do they have to come up with their own design, but they must also describe in writing what it does and what scientific principles it uses, but also make a concept drawing of what their object will look like when it is finished.
To find out if such a competition will take place near you, check out the following six science centers and two KomTeks that are currently planning to run the event:
• KomTek, Alingsås (only Swedish)
• KomTek, Katrineholm (only Swedish)
• Tom Tits Experiment, Södertälje
• The Swedish Museum of Science and Technology, Stockholm
• 2047 Science Center (formerly The Future's Museum), Borlänge (only Swedish)
26 January 2018
STEAM- and Environment-related education with the Super4DFrame Warka Water Tower
With STEAM- and environment-related subjects playing a greater part in Swedish schools, Nordic4DFrame AB just might have a new product that fits in with your teaching plans for classroom activities. The Super4DFrame Warka Water Tower [4DK-027] combines both STEAM and the environment through teaching about the practical solution to a very real world problem; where to find clean drinking water in parts of the world where it is very hard to do so today.
What is a Warka Water Tower? It is a tall bottle-shaped frame made of simple materials, such as bamboo stalks and hemp rope, using everyday hand tools that require no electricity. Better still, everything used to make them are biodegradable, 100% recyclable and when finished can be easily maintained by the local community who built it.
Once completed, the tower can be used to passively collect drinkable water from the surrounding air as water vapor condenses directly from the atmosphere onto a polyester mesh attached to its interior. As the water droplets grow, they run down the surface of the mesh (due to gravity) until they reach the bottom of the tower where they are collected in a reusable container.
Surprisingly, even hot and arid parts of the world, like deserts, have water vapor in the local atmosphere. Depending on the surrounding environment, it is estimated that such a Warka Water Tower could collect from 40 to 80 liters of usable drinking water every day. This can be very important for communities that only have access to water that has been polluted by their herd animals, or even by the people themselves due to poor sanitation facilities. Such contaminated water leads to the spread of diseases that can seriously affect the health of thousands and thousands of people—especially children—around the world.
The Super4DFrame Warka Water Tower set includes all the parts you need to build its exterior framework and the completed structure stands @4,8m high. And, like the real thing, this 4DFrame version is made of recyclable materials.
This set costs 2600kr (SEK), with VAT and shipping to be added.
If this sounds like something that would fit into your STEAM- or environment-related teaching plans, please contact us to order.
e-mail: tom.callen@nordic4dframe.com
Phone: +46 (0)706102757 or +46 (0)703824437
Fun fact #1: the word "Warka" comes from the Warka fig tree (Ficus vasta) that is native to the country of Ethiopia, which is in the eastern part of the African continent. Like the tree itself, a Warka Water Tower can act as a social gathering place for the people in the community where it has been built.
Fun fact #2: Warka Water Towers are a design idea from the award-winning Italian artist / architect / designer Arturo Vittori. In 2012, he began to work with the concept, based on self water-collecting examples—from plants to animals—found in nature. More can be learned about this project at www.warkawater.org.
Fun fact #3: another part of the Warka Water Tower concept is a version that includes the addition of flexible arrays of inexpensive solar cells that would utilize the Sun to make renewable electricity that could be used for powering energy-efficient lights as well as charging mobile phones and laptop computers.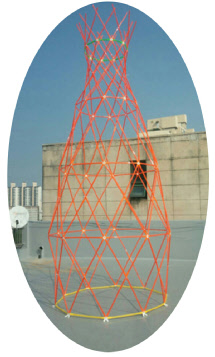 A completed Super4DFrame Warka Water Tower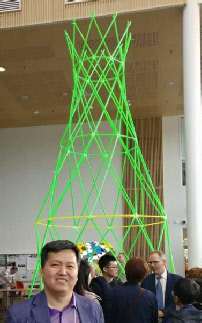 Mr Ho-gul Park, architect and inventor of 4DFrame, standing with a Super4DFrame Warka Water Tower
©2013-2019, Nordic4DFrame AB
Grönviksvägen 6, 185 41 Vaxholm, Sweden