Mechatronics Android® app
You can download the original version of the Mechatronics app for Android® devices as a ZIP file from here in case you have accidentally erased it or wish to install it on another Android® product.
There are two ways that you can do so:
a) Download it directly into your Android® device and when the file is unzipped, install it like you would any other app.
b) Download it to a computer, unzip the file and then drag it to your Android® device that is connected to the computer.
• Download the Mechatronics app
Connecting to Bluetooth®
1. Activate application and click on 'magnifying glass' icon on main screen.
2. When 'Connecting to a Bluetooth® device' window appears, click on 'Find' button.
3. Wait ten seconds and click '4DFrame' when it appears.
4. Enter '1234' for pin number to register Bluetooth® module.
5. After completing registration, connect to Bluetooth® device by clicking on ID number.
6. When connection is completed, the 'Control 1' window will appear.
! The main board should be powered when connecting via Bluetooth®. Make sure to connect a charged-battery to it.
! The number which appears when connecting to a Bluetooth® device is the same as the one on the main board. Check the number and select to connect it.
More Mechatronics resources:
- The three original Mechatronics manuals together in one manual.
• Download the Mechatronics single manual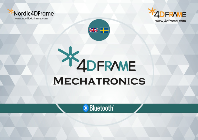 - A single manual bilingual English-Swedish version of the original Mechatronics manual (compliments the manual above).
• Download the bilingual Mechatronics single manual
- Bilingual tips for connecting Mechatronics models with one and two motors.
• Download the bilingual Mechatronics motor tips
©2013-2018, Nordic4DFrame AB
Grönviksvägen 6, 185 41 Vaxholm, Sweden